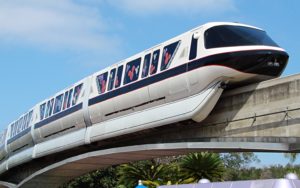 The Government of Telangana has decided to bring in another facility for the residents of Hyderabad. The city will have Mono Rail facility soon if the project goes on ground as per the plans of the Government. The Mono Rail project will be taken up in Miyapur - Shilparamam - Gachibowli corridor.
Mono Rail on Pillars
Telangana State Industrial Infrastructure Corporation (TSIIC) will act as nodal agency for the Mono Train project. There will be no track in the mono rail system. The train will run on the surface of the pillars with specially designed technology.
Mono Train will occupy less space and need limited funds compared to Metro Train project. TSIIC has large chunks of lands in Miyapur - Shilparamam - Gachibowli areas. So the project can be completed with minimum investment.
15 Kilometers in First Phase
Mono Rail first phase will be between Miyapur - Shilparamam - Gachibowli. The length of the project will be about 15 kilometers. This will be part of the multi model transport system of the Government of Telangana.
The Government has selected the first phase route considering busy places such as HITEX, NAC, Hitec City, IT Corridor, Shilparamam and various other national international IT companies and institutions of national importance.