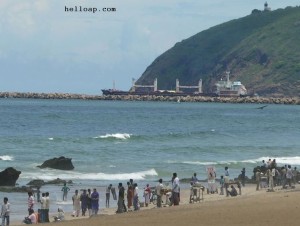 Visakhapatnam is likely to emerge as a big financial city in South India if the plans of Andhra Pradesh government materialise in the coming years. The Chief Minister of AP, Chandrababu Naidu has sanctioned several prestigious projects to the port city. Following are the details of various projects announced by the CM to Visakhapatnam (Vizag):
1) The city will be developed as Mega City. The Center may grant the samrt city status to Visakhapatnam.
2) The Vizag airport will be developed as a full fledged International Airport in the lines of Samshabad Airport in Hyderabad.
3) Visakhapatnam - Chennai Industrial Corridor will be the biggest project to boost the status of the city to further heights.
4) Metro Rail project
5) Two prestigious institutions, Indian Institute of Management (IIM) and Indian Institute of Foreign Trade (IIFT) will be established in Visakhapatnam by the Central Government.
6) Mega IT Hub
7) Electronics Manufacturing industries
8) Innovation and Incubation Hub
9) Food Park
10) Exhibition and Convention Center
11) Gangavaram LNG Terminal
12) A special railway zone will be allocated to Visakhapatnam.
Several of these projects like Visakha - Chennai Industrial Corridor, IIM, IIFT and Railway zones have to be implemented by Central Government.