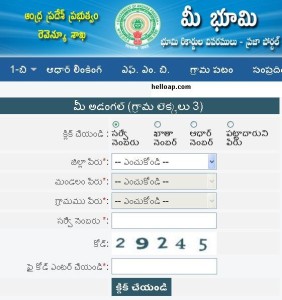 The Government of Andhra Pradesh has come up with a public portal which can help the farmers / general public and revenue officials to check the land records very conveniently. The portal meebhoomi.ap.gov.in can be used to check adangal, 1B, FMB, village map for personal and official purposes.
There might be so many errors in your land data and information such as survey numbers, pattadar passbook numbers and pattadar names on the portal. It is quite common in such as huge task of recording lakhs of records. Here is the procedure to correct the mistakes crept in the land records.
The users / farmers / citizens have to apply for the correction of mistakes of any kind through Mee Seva centers or at the offices of MROs / Tahasildars. The corrections will be done within 45 days after the submission of applications.
Also Read:
AP Mee Bhoomi Android Mobile App - Download Process
AP Mee Bhoomi Portal for Adangal, 1B and Pahani
AP Mee Bhoomi Portal - Latest Land Records
The users can also get mutation details through separately applying for the same. The revenue officials at the Tahasildar office will check the land records and mutation details and give you the same in the prescribed period. The revenue and land process at MRO offices are likely to get faster with this web portal meebhoomi.ap.gov.in