The Unique Identification Authority of India (UIDAI) has deactivated about 81 lakh Aadhaar numbers recently citing various reasons. This has left many people worried as Aadhaar has now been made mandatory for many scheme and programmes. Recently Aadhaar has been made mandatory for filing income tax return and opening a bank account.
The Aadhaar Cards were deactivated due to reasons such as multiplication of cards, discrepancies in the biometric data or supporting documents. Following is the step by step guide to check the status of your Aadhaar Card online through UIDAI website.
Step 1: Open the Aadhaar website, that is UIDAI (Unique Identification Authority of India).
Step 2: Find the 'Verify Aadhaar Number' link on the Aadhaar website. You will be able to find this link under Aadhaar Services section. After opening the link, you will be taken to another portal.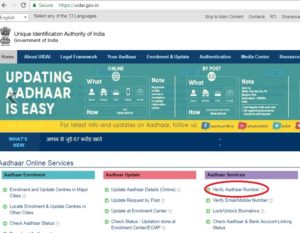 Step 3: Enter your 12 digit Aadhaar number in the dedicated box, in order to verify the validity status of your Aadhaar number.
Step 4: Type in the 'Security Code' displayed on the webpage. The number should be entered into the 'Security Code Verification Box'. After this click on the "Verify" tab.
Step 5: In case your Aadhaar number is still valid, a message will be displayed saying that your number still exists. The website will also show the details of age band, user's gender and the state where they belong.
Step 6: In case your Aadhaar number / card is invalid, the website will return with the message mentioning that the particular Aadhaar number does not exist on the records of UIDAI.