The Government of AP has finalised the route map of IRR (Inner Ring Road). The CRDA has approved the proposed IRR to be developed in Amaravati - Vijayawada. About 8000 acres of land will be acquired for IRR purpose. Draft will be released soon by CRDA. Public will be given 30 days time to raise objections if any to the draft IRR. Total distance of IRR will be 217 KM. 41 villages will en route IRR.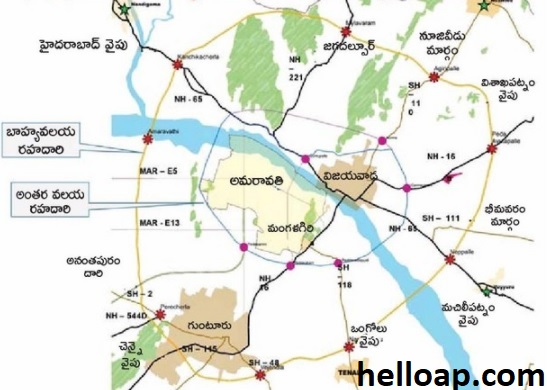 Following are the areas comes under IRR in Amaravati - Vijayawada:
Districts Covered: Guntur and Krishna Districts
Mandals Covered: Tullur, Amaravati, Duggirala, Mangalagiri, Tadikonda, Gannavaram, Ibrahimpatnam, Penamaluru, Vijayawada Rural, G. Konduru.
Also Read: ORR in Amaravati - Map and Villages
Regional Ring Road in Hyderabad - Route Map
Villages in Guntur District: Yendrayi, karlapudi, Vaikuntapuram (Amaravati mandal), Tammapudi (Duggirala), Chinakakani, Kaja, Nuthakki, Peda vadlapudi, Ramachandrapuram (Mangalagiri), Kanteru, Mothadaka, Tadikonda, Harischandra Puram, Peda Parimi, Vadlamanu, Ananthavaram (Tullur).
Villages in Krishna District: Kavuluru, Velagaleru (G Konduru), Ramachandrapuram, Savirigudem, Vedaru Pavuluru (Gannavaram), damaluru, Ibrahimpatnam, Jupudi, Ketanakonda, Kondapalli, Kondapalli Reserve Forest, Kotikalapudi, Navi Pothavaram, Trilochanapuram, Jami Machavavram (Ibrahimpatnam), Chodavaram, Ganguru, Penamaluru, Poranki (Penamaluru), Done Atkur, Kothur, Nidamanuru, Nunna, Pathapadu, Tadepalli (Vijayawada Rural).