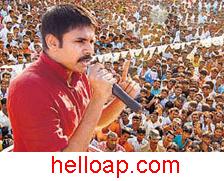 Pawan Kalyan has all set to enter into active politics. Though politics is not new for him, launching a new party must be an exciting venture for Pawan Kalyan. It is informed that the party is named as Jana Sena Party (JSP). The power star will announced and formally launch the party on 14th March 2014.
Powan Kalyan is likely to announce the policies and agenda of Jana Sena Party (JSP) on the launching day. Arrangements also have been made to telecast the party launch across the state through LED screens.
Pawan Kalyan is likely to contest from Kakinada Lok Sabha Constituency in the coming General Elections 2014. He is also considering the winning chances in Malkajigiri Lok Sabha segment. He is likely to deliver 45 minute speech on the launch day.
The Jana Sena party will be announced in a meeting to be held in Hitex in Hyderabad. Power star will tour the state after completing formalities in Hyderabad. He is yet to announce flag of the party.