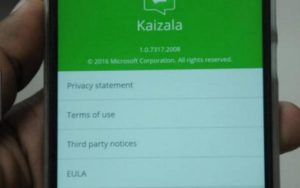 Tech savvy Chief Minister of Andhra Pradesh, N Chandrababu Naidu has come out with an app to get connected with the people of the state. The Connect - CM mobile app launched by Naidu is meant for airing grievances by the people and give suggestions on governance.
The Connect - CM app developed by Microsoft under the name of Kaizala and has been used at the time of Krishna Pushkaralu.
Kaizala is a mobile chat app developed by Microsoft that enables with a large number of people at the same time. The app will only be used by the Chief Minister of AP and he will directly review the feedback analytics and the government policies will be modified accordingly.
The people can download and install Kaizala app from Google Play Store and activate it on their smart phones. And then click on Discover and subscribe to AP CM Connect and click on Share Feedback on top panel to provide feedback on the policies and programmes of the Government.