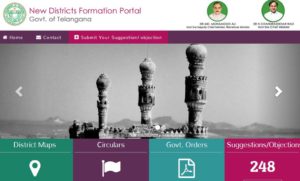 The Government of Telangana has set up separate portal inviting objections and suggestions on the new districts formation in Telangana state. The draft notifications are available on the portal http://newdistrictsformation.telangana.gov.in . The public can also file objections / suggestions from this portal . Contact details of following officials also are provided to send objections / suggestions on new districts, revenue divisions and mandals in Telangana - 2016:
A) Sri. J. Raymond Peter, I.A.S, CCLA and Spl.C.S,
O/o the Chief Commissioner of Land Administration,
Nampally Station Road, Hyderabad, Telagnana.
B) Smt. N. Madhavi Devi,,
Additional Assistant Commissioner (Coordination),
O/o CCLA, Hyderabad, Telangana.
aac.cordccla@gmail.com
C) Dr. Satya Sharada,,
Assistant Secretary (CMRO),
Nampally Station Road, Hyderabad, Telagnana
O/o CCLA, Hyderabad, Telangana.
ascmro@telangana.gov.in
See for more information:
New Districts, Revenue Divisions and Mandals in Telangana State - 2016
New Districts Draft Notifications - GOs 2016