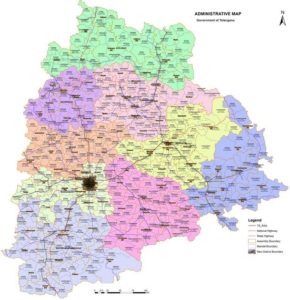 The Government of Telangana has released drft notification for the formation of new districts, revenue divisions and mandals in the state. 17 New districts, 15 new revenue divisions and 46 new mandals will be formed in Telangana, as per the draft notification. The Government has invited the suggestions from the public through new portal / website at www.newdistrictsformation.telangana.gov.in . The GO copies are also available on the website goir.telangana.gov.in . There will be no change in Hyderabad district.
New Districts in Telangana 2016: Acharya Jayasankar district (Bhoopalapalli), Hanmakonda, Jagityal, Kamareddy, Komuram Bheem (Manchiryal), Kothagudem, Mahaboobabad, Malkajgiri, Nagarkurnool, Nirmal, Peddapalli, Sangareddy, Samshabad, Siddipet, Suryapet, Wanaparthy and Yadadri.
New Revenue Divisions in Telangana 2016: Bellampalli, Bhainsa, Korutla, Hanmakonda, Hujurabad, Bhoopalapalli, Vaira, Kodada, Achampet, Keesara, Toopran, Zahirabad, Gajwel, Narayanakhed, Banswada.
New Mandals in Telangana 2016: Mavala, Naspur, Karimnagar Rural, Kothapalli, Antargam, Illantakunta, Kazipet, Chelpuru, Veleru, Illandakunta, Khila Warangal, Inavolu, Gattuppal, Madugulapalli, Tirumalagirisagar, Konda Mallepalli, Nagaram, Anantagiri, Motakonduru, Addaguduru, Mahaboobnagar Rural, Rajapur, Marikal, Padara, Amarachinta, Nandinne, Dundigal, Jawaharnagar, Abdullapur, Balapur, Gandipet, Sirgapur, Ameenpur.
New Districts Draft Notifications - GOs 2016