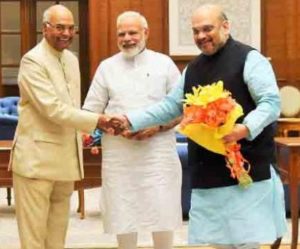 Ram Nath Kovind is a politician from BJP and is an advocate by profession. He practices in Delhi. He is in the news as he is chosen for the candidature of President of India by NDA Government at the center. Following is the brief profile / biodata of Ram Nath Kovind, presidential candidates of NDA.
Personal Life, Family and Children:
Ram Nath Kovind was born on 1st October 1945 in Kanpur Dehat, Uttar Pradesh (UP). His parents are Maiku Lal and Kalawati and father was a farmer. Kovind studied B.Com and LLB from Kanpur University. Kovind was married to Savita on 30 May 1974 and they have a son, Prashant Kumar and a daughter, Swati.
As an Advocate:
Kovind was a central government advocate in the Delhi High Court during 1977-79 and also advocate on record in the Supreme Court in 1978. RamNath Kovind was Central Government Counsel in Supreme Court during 1980-83. He was also a member of Rajya Sabha from UP for two successive terms during 1994 - 2006.
Association with BJP:
Ram Nath Kovind was the national president of the BJP Scheduled Castes Morcha (Dalit Morcha). He also served on the board of IIM - Kolkata. Apart from these, Kovind served on several parliamentary committees, including those on welfare of SCs / STs, Social Justics and Empowerment.
Ram Nath Kovind addressed UN General Assembly in October 2002. He sworn in as Bihar Governor in 2015. He will be the next President of India as his candidature is supported by the ruling NDA and several other parties.