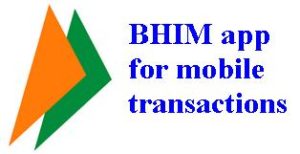 Bharat Interface of Money (BHIM), a mobile app for easy and fast transactions has been developed by National Payments Corporation of India (NPCI). The app works on any smart phone with Android and iOS versions.
BHIM app is already available on Google Play Store for ANdroind mobile phones. Here is the step by step procedure to download the app and install it on your mobile smart phone.
1) Long on to https://play.google.com
2) Type in the search box: Bharat Interface of Money BHIM. YOu will find the app as shown in the image. It is developed by NPCI.
3) Click on Install. Accept Terms and Conditions.
4) You can go through the instructions before proceeding with transactions.
All the major public and private sector banks in India can be connected through BHIM app. Some of the available banks are ICICI Bank, HDFC bank, State Bank of India, Punjab National Bank, Axis Bank, Bank of Baroda, Canara Bank, Central Bank of India, Indian Overseas Bank, Union Bank of India, Syndicate Bank etc.
Here is the procedure to make payments through BHIM app:
First, you need to register your bank account with BHIM, and set a UPI PIN for the bank account. Your mobile number is your payment address (PA), and you can simply start transacting.
Send / Receive Money: Send money to or receive money from friends, family and customers through a mobile number or payment address. Money can also be sent to non UPI supported banks using IFSC and MMID. You can also collect money by sending a request and reverse payments if required.
Check Balance: BHIM can also help you to check your bank balance and transactions details on the go.
Custom Payment Address: You can create a custom payment address in addition to your phone number.
QR Code: You can scan a QR code for faster entry of payment addresses. Merchants can easily print their QR Code for display.
Transaction Limits: You can do a maximum of Rs. 10,000 per transaction and Rs. 20,000 within 24 hours.
Language supported: The BHIM is app is presently available in Hindi and English. More languages will be added soon by NPCI. For more information visit NPCI website https://upi.npci.org.in/static/faq/en_US/ .