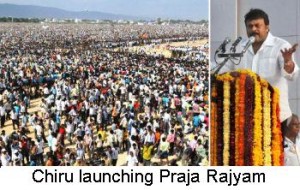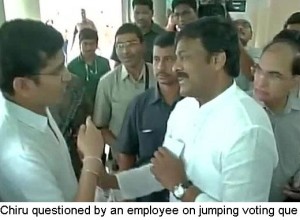 The rise and fall of Megastar Chiranjeevi in politics should be a lesson for aspiring politicians from cinema industry. Chiranjeevi's gestures in the recent past shows that he is in complete blank state of mind with regard to his political prospects.
Only face saving is his Rajya Sabha membership. After this Assembly and Lok Sabha elections, Chiranjeevi is likely to concentrate more on his personal businesses as he would have nothing to speak and act.
At some point, Chiranjeevi may also regret for the merger of Praja Rajyam Party with the Congress, without much thought on the long term political implications and strategies of Congress leadership on AP division.
Chiranjeevi's statements and actions on AP division also made him a joker in the minds of Seemandhra people. His rallies did not find any takers in Seemandhra. As congress is heading for 4th or 5th position in Seemandhra, what is in store for Chiranjeevi in active politics of AP?