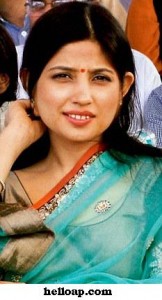 Dimple Yadav has been in limelight for the past 5-6 years in UP politics. Here is her bio-data cum profile. Dimple is wife of Uttar Pradesh Chief Minister, Akhilesh Yadav. She is playing active and crucial role in the UP politics from 2009. Dimple Yadav is contesting from Kannauj Lok Sabha Constituency in the by polls to be held on 24th June 2012. The Constituency is vacated by her husband Akhilesh after he was elected to UP Assembly and sworn in as CM of Uttar Pradesh. Being a daughter - in - law of senior politician and SP (Samajwadi Party) President Mulayam Singh Yadav, Dimple Yadav may play a crucial role at the national politics as well.
Dimple was born in 1978. Her father was a retired Indian Army Col SC Rawat at Pune. She originally hailed from Uttarakhand and Dimple's parents still live in Kashipur, Uttarakhand. Dimple completed her Graduation from Lucknow University. She studied Humanities. Dimple was 21 years old when she fell in love with Akhilesh, who was just completed his Masters in Australia. Akhilesh Yadav and Dimple were married in November 1999. They have three children. Their names are Aditi and twins, Arjun and Tina. Dimple was instrumental in designing the election campaign of Akhilesh Yadav in 2012 Assembly Elections. Akshilesh Yadav won from two Lok Sabha seats, Kannauj and Firozabad in 2009 elections and chose to represent from Kannauj.
Dimple contested in the by election to Firozabad and lost to Raj Babbar of the Congress Party. The Congress Party has even roped in Rahul Gandhi to defeat Dimple in that by elections held in 2009. Presently she is most likely to win from Kannauj as Congress is not much interested in fielding its candidates as the SP is offering outside support to UPA Government at the center. The BJP has named Jagdeo Singh Yadav as its candidate for the Kannauj by polls. BSP chief Mayawati is yet to announce her candidate for Kannauj.