Revenue Department of Government of Telangana has launched Ma Bhoomi portal for the convenience of land owners in Telangana State. The agriculture land owners in all Telangana districts can avail this facility. They can get the copies of certificates such as Pahani (Village Pahani and Your Pahani), 1B, Tippan, Village Map and also statistics of agriculture lands in various districts. The website can be accessed at mabhoomi.telangana.gov.in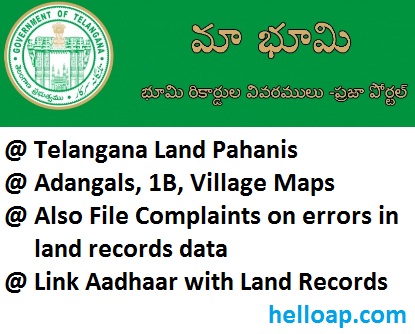 Following are the services offered by Mabhoomi website of Telangana Government:
1) Integrated Land Registry: You can get the integrated maps of the village with survey numbers of the agriculture lands.
2) Pahani: Here you can access Your Pahani, Village Pahani, My Pahani (Crops), Village Pahani (Crops).
Also Read: Telangana Praja Portal - Ma Bhoomi for ECs, Pahanis and Adangals
3) ROR - 1B: This is the most important document for availing loans from banks. You can obtain ROR - 1B from this portal. Both individual and village 1B can be downloaded.
4) Aadhaar Linking: The agriculture land owners / farmers can link the Aadhaar number with their land records. This is going to be mandatory in future!
5) Tippan: You can also get the Tippan details from Mabhoomi website.
6) Village Map: The farmers can download village map from the link http://mabhoomi.telangana.gov.in/Villagemap_dr.aspx .
7) If you find any mistakes in the land details available on the website, you can also file complaints through mabhoomi.telangana.gov.in . See more details of Digitalisation of Telangana Land Records
To access all the above services, you need any of the details such as adhaar number, survey number, khata number, pattadar name, etc. You can download the information in PDF format.