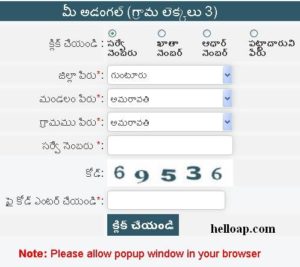 Residents of Guntur district of Andhra Pradesh can avail their land records through AP Meebhoomi portal. This is a very convenient portal and can be accessed with minimum internet knowledge.
Following is the step by step procedure to get the land records like Adangal, 1-B, Aadhaar Linking, FMB and Village Map through AP Mee Bhoomi Portal:
1) Log on to http://meebhoomi.ap.gov.in/
2) Select the service you want to get (Adangal, 1B, FMB, Village Map etc.
3) Fill the columns like Survey Number, Khata Number, Pattadar Name, District, Mandal, Village etc.
4) Enter the Captcha correctly.
5) Now Submit to get the desired data.
You can download the documents in PDF format also for the future reference. If you find any issue with your documents, you can also file a complaint through same portal by clicking on the complaints link on the menu.