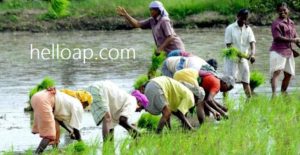 The Government of Telangana has set to launch mammoth exercise of land survey in the state. The survey is aimed at reviewing all the age old land records in the state. The farmers and land owners have to apply to the teams visiting to them to make any corrections to the land records data.
The revenue officials and special teams of land survey will issue and distribute 1B forms to all the farmers. The land survey will commence from 15th September 2017 across the state. The officials will visit the villages in teams.
Also Read: Get Telangana Land Records, Pahani, Adangal
Nine teams have been formed in Nalgonda district considering the extent of the district. The farmers are requested to go through the 1B forms given to them and take note of any mistakes in the data.
If there are any mistakes and errors in the land records data, the farmers may mention the same in the application forms given to them by revenue officials. The officials have to give a receipt to the farmer concerned after receiving the application.
Also Read: Telangana Land Details Online
There are concerns over the collection of land data from the farmers as most of them are illiterates and may not aware of the survey numbers and other details of their lands. They have to be guided by the revenue officials properly in identifying the mistakes in passbooks and 1B forms.