A committee set up to look into household finance system in India has proposed to impose some regulations on the gold transactions in the country. The committee has recommended to record the transactions through making PAN card a must at the time of purchase and sale of gold. India has huge consumption of gold compared to several developed countries in the world.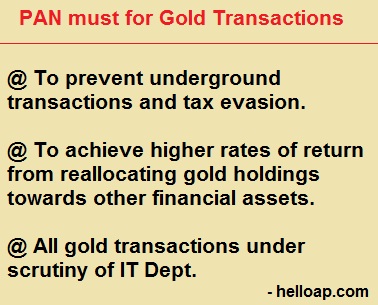 At present, PAN card is required for gold transactions from jewellers for above Rs 2 lakh. There is daily cash limit on the sale of gold to prevent tax evasion. To prevent unrecorded gold transactions, the committee has recommended that all gold transactions must be registered making PAN mandatory.
The committee was set up to look at various facets of household finance in India on the recommendations of the cabinet subcommittee of the Financial Stability and Development Council meeting last year.
The panel was chaired by Tarun Ramadorai, professor of financial economics, Imperial College, London. The committee has representations from RBI, SEBI, the Insurance Regulatory and Development Authority of India (IRDAI) and the Pension Fund Regulatory and Development Authority (PFRDA).