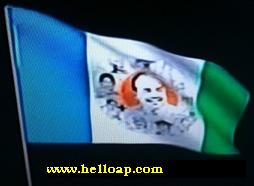 Y.S. Jagan Mohan Reddy, President of YSR Congress Party has unveiled the flag of his newly launched party with much fanfare at Idupulapaya, Kadapa district of Andhra Pradesh. The flag symbolises YSR's pet schemes with three vertical strips in Blue, Green and White. The flag has been unveiled and hoisted at YSR Samadhi in the presence of YS Vijayalakshmi, Sharmila, Bharathi, and Jagan's supporters and fans along with massive gathering. The program was ended without any interruption in the wake of Election Commission's suggestion to Y.S. Jagan to take into consideration the code of conduct that has been in force in the district. The party is yet to release it's manifesto which is expected after the completion of bye elections to Kadapa Lok Sabha and Pulivendula Assembly constituencies. You can see the image / picture of the YSR Congress flag along with this post. The election commission is also likely to allot a symbol for the new party.
Here is the description of the YSR Party flag: The flag comprises a blue strip, followed by a white and green strips in a vertical positions. The picture of Y.S. Rajasekhar Reddy with all his pet schemes in a circle shape are embossed in the white strip. The symbols of the schemes include Aarogya Sree, Indiramma Housing, Jalayagnam, Pension Schems, Fee reimbursement etc. The party sources disclosed the meaning of three strips as folows:
1. Blue Strip: This symbolizes the colour of water, Youth consciousness, self respect of dalits.
2. White Strip in the middle: This hints at a clean and plain image of YS Rajasekhar Reddy and symbolises peace..
3. Green Strip: This symbolises the slogan of Harithandhra Pradesh, power of minorities and humanitarian spirit.
The program was attended by YS Jagan's close and regular followers such as Mekapati Rajamohan Reddy and Chandra SekharReddy, Konda Surekha and Murali, Bhuma Nagi Reddy and Sobha Nagireddy, Pulla Padmavathi, Bhumana Karunakar Reddy, MLAs Srikanth Reddy, Gurunath Reddy, Adinarayana Reddy, Buchepalli Sivaprasad Reddy, Babu Rao, Katasani Rami Reddy, Ramachandra Reddy, J Prabhakar Rao and Ambati Rambabu, Gattu Ramachandra Rao etc.