The Government of Andhra Pradesh has digitalised all the land records across the state. The public / citizens can obtain lan related documents such as Adangal, Pahani, 1-B, FMB, Village Map from AP Mee Bhoomi portal at meebhoomi.ap.gov.in . You can also link your aadhaar number with land records. Following is the step by step procedure to get Adangals from AP Meebhoomi portal.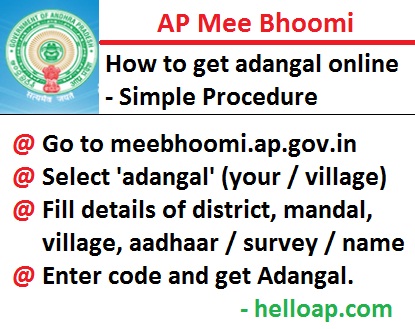 1) Log on to http://meebhoomi.ap.gov.in/
2) Second link on the menu will be 'Adangal'. If you hover on that, you will see the options as Mee Adangal (Your Adangal) and Grama Adangal (Village Adangal).
3) Let us see the procedure to get your adangal (mee adangal). If you click on that, you will see the window to enter all the details of the land.
4) There are four options to choose depending upon the availability of data with you. If you have survey number / khata number / aadhaar number / pattadar name - you can choose the relevant form and fill the details.
5) Enter District name, Mandal Name, Village Name and any of these - Survey number / khata number / aadhaar / pattadar name. Finally enter the code numbers correctly and press on 'click cheyandi'.
6) You will get the details just below the form on the same window. If you click on Khata number / pattadar name, you will get the Adangal document of your land. If you find any errors in the data, you can also file complaints.
Also Read - Corrections to AP Land Records
7) You need to follow the same procedure to get village adangal also. After choosing Village Adangal from menu, enter district name, mandal name and village name and code. You will get the Village Adangal.
This will be a great portal and general public and also for revenue administration and bankers / financial institutions. They can easily check the land details of the public to issue loans and other certificates.
Also Read: How to link Aadhaar with AP Land Records