Medaram Mahajaatara - Sammakka, Saralamma Jatara will be celebrated from 31st January to 3rd February 2018. The Jaatara is celebrated once in two years. It is estimated that more than 1 crore devotees will visit Jaatara this year.
See More: Sammakka Saralamma Jatara Photos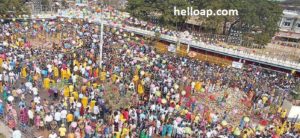 The Government of Telangana has made all the arrangements for Jaatara. About 40 lakhs people have already visited the Jaatara in the last 10 days. 20 lakhs devotees are estimated to turn out in the coming two days.
Many people stay at the place for three days till the completion of Jaatara. TSRTC is running 4500 special buses for the convenience of devotees. Police patrol will be arranged along Warangal - Medaram road.
The Chief Minister K Chandrasekhar Rao, along with family will visit Medaram on 2nd February 2018. The TS Government has also invited Governor Narasimhan to grace the occasion. The Government has requested the Central Government to grant national festival status to Sammakka - Saralamma Jaatara.