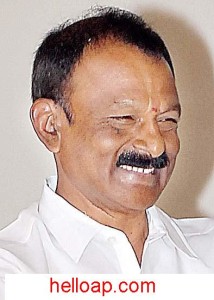 N. Raghuveera Reddy has been appointed as President of the PCC in Andhra Pradesh / Seemandhra. He is one of the senior Congress leaders from Rayalaseema and presently representing Kalyandurgam Assembly constituency. Following is the biodata / profile of N .Raghuveera Reddy.
Date of Birth: 12th February 1957
Parents: N. Narasamma, N. Kaverappa
Native Village: Neelakantapuram village in Madakasira Constituency of Anantapur district.
Wife and Children: Wife is Suneetha Raghuveer, Children are Amrutha Raghuveer (Daughter) and Amit Veer (Son).
Family background: Basically from agrarian family. He served as Panchayat Sarpanch of Gangulavai Palyam village for 30 years.
Education: B.Sc., LL.B.
Political History: Raghuveera Reddy joined in Congress party in 1985. He won from Madakasira Constituency in 1989 and served as minister for animal husbandry in Kotla Vijaya Bhaskar Reddy cabinet.
1994 elections: Defeated by TDP candidate
1999 and 2004 elections: Won from Madakasira and served as Agriculture minister in YS Rajasekhar Reddy cabinet.
2009 elections: Elected from Kalyandurgam Constituency and served ad Agriculture minister in YSR cabinet. Later shifted to Revenue portpolio by Rosaiah and continued in the same ministry by Kiran Kumar Reddy. He also served as district Congress president during 1990-98.