Stamps and Registrations Department of Government of Telangana has introduced online property registration system in the state. The property registrations will be done online from 1st August 2017. The Stamps and Registrations department website will be facilitated with Public Data Entry System (PDES) in order implement online registrations system. Following is the step by step procedure, check list, fees and timelines of online registration system in Telangana state.
Documents List for Online Registrations in TS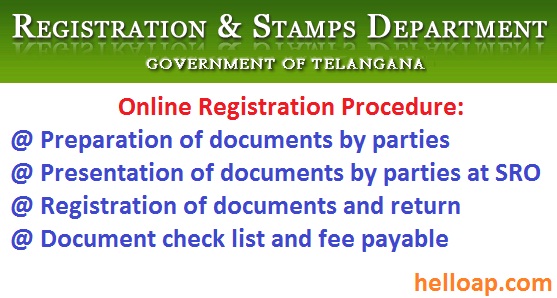 Procedure:
Step 1: Preparation of document by parties (No fixed form is available for this purpose. However, model document / template available on website and can be downloaded)
Step 2: Presentation of document by Executant/ Claimant/ SPA to the Sub Registrar. This should be the document to be registered. The documents should contain all those mentioned in checklist. The buyer should pay Stamp Duty, Registration Fee, Transfer Duty as applicable. These also available on registrations website.
Step 3: Registration of Document and Return. This will be completed within 24 hours if completed in all respects, as per the GO Rt. No.1094, Revenue Department.
There are about 10 types of documents to be submitted by the parties at the time of registration. These details and fee payable under various categories like stamp duty, registration fee and transfer fee are available on the official web link at https://registration.telangana.gov.in/documentregistration.jsp .
Also See:
Online Registrations from August 2017
Sada Bainama Registrations Status