Following are the details of documents to be submitted by the parties during online registration process of Government of Telangana. The TS Government has introduced online property registrations through public data entry system at registrations.telangana.gov.in . Following are the documents to be submitted for online registrations: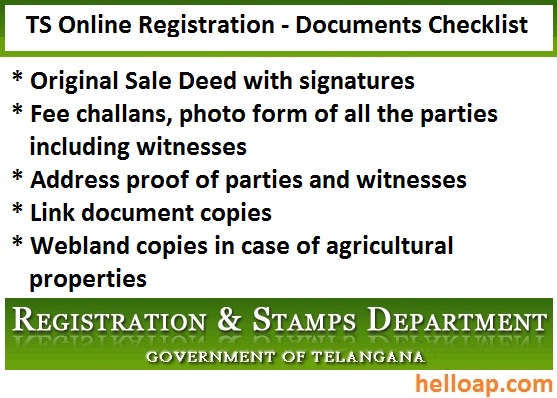 Also see: Telangana Online Registrations - Step by Step Procedure
Here is the list of documents:
1) The original sale deed document bearing signature of all parties.
2) Challan / DD evidencing payment of full stamp duty, transfer duty (if any), registration fee and user charges applicable.
3) Section 32A photo form of executants / claimants / witnesses. (If buyer is present, If buyer is represented )
4) Two credible persons (witnesses), who will identify the parties and identity cards with photos of such persons.
5) Address proof of the executants and witnesses: Any of the following are considered valid address proofs:
a) Aadhaar card.
b) Passport issued by Government of India
c) Driving licence issued by Transport Department
d) PAN Card issued by IT Department
e) Ration card issued by Civil Supplies Department
f) Voter ID issued by Election Commission of India
6) Photograph capturing Frontal view of the property (8/6 inches)
7) GPA / SPA, if any in original and its Photostat copy.
8) Link documents copies.
9) Webland copy in respect of agricultural properties.
10) Pattadaar passbooks and title deeds in original and their copies in respect of agricultural property transactions.
Fee under various categories like stamp duty registration fee and transfer fee are applicable as per the registration value of the property.
Also Read:
Online Registrations in Telangana from August 2017
Telangana Registrations, ECs and Sale Deeds