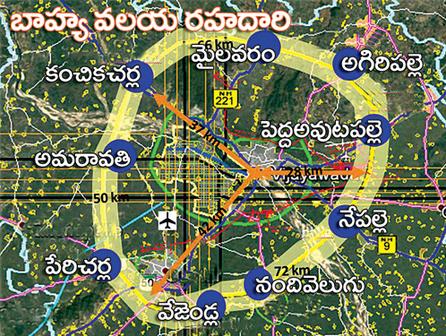 Amaravati, the new capital city of Andhra Pradesh state will have a Outer Ring Road (ORR) with a length of 186 km. The Government of Andhra Pradesh has decided to go with the proposed plan to set up ORR around Amaravati. The Government has also released ORR Map for the reference.
The villages that goes through ORR in Amaravati are kanchikacharla, Amaravati, Lingapuram, Patibandla, Mandapadu, Perecharla, Pulladigunta, Ananthavarappadu, Vezendla, Nandivelugu, Vallabhapuram, Vallurupalem, Nepalle, Vetthipadu, Peda Avutapalli, Chopparametla, Narsingapalem, Agiripalli, Sobhanapuram, Koduru, Mylavaram, Gangineni.
Following are some more features of proposed ORR in Amaravati:
1) Length of ORR: 186 km
2) Width of ORR: 120 - 150 meters
3) 8 lane and 2 lane service roads
4) Bridges on Krishna River: East Bridge - 4.5 km, West Bridge - 3.5 km
5) Areas inside ORR: 5,40,838 acres (Except river and forest area)
6) Present population inside ORR: 35 lakhs
Satellite townships around ORR will be Jaggaiahpet, Nandigama, Sattenapalli, Piduguralla, Narasaraopet, Chilakaluripet, Bapatla, Ponnur, Challapalli, Machilipatnam, Pamarru, Vuyyur, Gudivada, Hanuman Junction, Eluru, Nuzvid, A Konduru.
Growth Centers around ORR: Kanchikacharla, Amaravati (Old), Perecharla, Vejendla, Nandivelugu, Nepalle, Pada Avutapalli, Agiripalli, Mylavaram.
Urban Nods around ORR: Guntupalli, Pedaparimi, Peda kakani, Peda Vadlapudi, Gannavaram, Nunna.