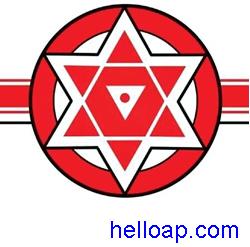 Pawan Kalyan's Jana Sena Party logo has been released on 13th March 2014. The ideology and flag of the party will be released by Pawan Kalyan on 14th March at Hyderabad. Arrangements have been made to telecast the party announcement programme through out the state.
The Jana Sena Party is a brain child of Pawan Kalyan. His brother Chiranjeevi has launched Praja Rajyam Party (PRP) before 2009 elections and later merged it with the Congress party.
Chiranjeevi did not extend his open support to the Jana Sena Party. Naga babu has told that the Mega family will be with Chirajeevi only. The logo of Jana Sena Party looks different.
Meanwhile, political pundits are believing that the Jana Sena Party may not draw much attention from the people given the maverick nature of Pawan Kalyan and his inconsistent thoughts and personal life. His political entry is also likely to impact the film career negatively.