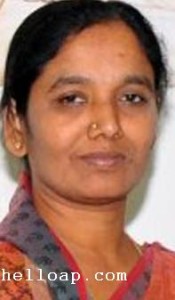 Paritala Sunitha is Minister in Chandrababu Naidu cabinet. She won from Raptadu Assembly Constituency in 2009 and 2014 Assembly elections in Andhra Pradesh. She is the wife of Paritala Ravindra. Paritala ravi was a strong TDP leader in Rayalaseema and was shot dead in a faction rivalry.
Paritala Sunitha is a loyal TDP leader from Anantapur district of Andhra Pradesh. Here is the brief profile of Paritala Sunitha:
Name: Paritala Sunitha
Parents: Kondaiah
Party: Telugu Desam party (TDP)
Spouse: Paritala Ravindra (1986–2005)
Siblings: Murali, Balaji
Children: Paritala Sriram, Paritala Siddhartha, Paritala Snehalatha
Position: MLA (to be Minister in Naidu cabinet)
Constituency: Rapthadu, Anantapur district, Andhra Pradesh.