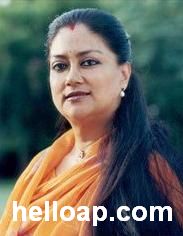 Vasundhara Raje Scindia was the first women Chief Minister of Rajasthan state in India. She has all set to return to power through 2013 Assembly elections in Rajasthan. Earlier she served as CM of Rajasthan during December 2003 - December 2008. Following is the brief profile / biodate of Vasundhara Raje Scindia:
Vasundhara Raje Scindia was born on 8 March 1953. She was born at Mumbai and daughter of Vijayaraje Scindia and Jivajirao Scindia. Her father was a Maharaja of Gwalior. Vasundhara has completed her school education from Presentation Convent, Kodaikanal, Tamil Nadu. Her college education was at Sophia College (Mumbai University).
Name: Vasundhara Raje Scindia
Assembly Constituency : Jhalrapatan
Place of Birth: 8 March 1953 at Mumbai
Political Party: Bharatiya Janata Party
Husband: Hemant Singh
Hemant Singh and Vasundhara separated a year after their marriage in 1972. She first became of MLA in 1985-90. She also served as MP from 1981 - 2003. She was Union Minister of State for External Affairs during 1998-99 and again Union Minister of State for Small Scale Industries during 1999 - 2001. She is the leader of opposition in Rajasthan Assembly from 2008 to till the date. The 2013 Assembly elections may bring back her to the CM post.