Now it is mandatory to verify your mobile phone with aadhaar number. You need to go to the nearest mobile store and furnish your aadhaar details to link mobile with unique ID number. The UIDAI and mobile operators have made this process simple and convenient for the users.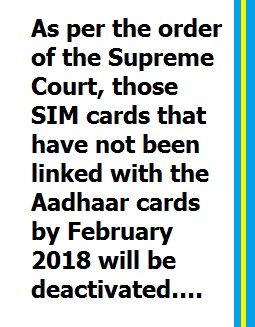 Using Aadhar OTP:
The mobile phone users need not go to any store to link mobiles with aadhaar number. You can do the same from anywhere. You will get Aadhaar OTP in order to link it with your mobile. The new service will be available from 1st December 2017.
No need of finger prints:
In this process, you need not give finger prints. Outstation subscribers can also verify their SIM from anywhere. You can also verify your other SIM cards using this service.
Only for registered users:
To avail the above facility, one of your mobile numbers must be registered with Aadhaar. If your mobile number is not registered with Aadhaar, you can visit the nearest Aadhaar Seva Kendras at Bank Branch or Post Office to add or update your mobile number. For list of Aadhaar Seva Kendras and Post Offices, see www.uidai.gov.in .